Do you have questions? Let us answer now!
Leave your number and we will call you shortly, answer any question you'd like to ask.
What is Lip Augmentation?
Lip augmentation is a cosmetic procedure that provides fuller lips for the patient. Fleshy lips have been seen as an aesthetic ideal and a symbol of youth for centuries. Lip augmentation with fat injection or dermal fillers increase lip volume and enhances the facial outlook.
Lip filler application, lip shaping, the removal of structural collapses which create forehead lines, nasal edge lines, lines around the mouth, lines between lips and jaw, is possible with just a filler injection application under the skin without the need for any surgical intervention.
The filler used, with its hyaluronic acid content, gives vitality, brightness, humidity and firmness to the skin. Since this substance is one of the building blocks of the skin itself, it can be safely applied to any area of the face and body.
Success Rate of Lip Filler
Patients who have natural thin lips or whose lip volume decreased due to aging typically get quite good results from dermal filler. If the patient desires, the plastic surgeon will show the results of the lip augmentation procedure performed with injectable lip fillers or fat transfer, in the form of "lip filler before and after" photos of the patient.
Request Lip Filler Before and After Photos
How is the Lip Filler Performed?
Lip fillers are used to augment the lips, to reshape them or to remove the wrinkles around the lips. These fillers are hyaluronic acid based. The application takes about 15-20 minutes. An anesthetic cream is applied before the procedure to ensure a painless application.
Injections are made using a thin needle or cannula. After the procedure, the patient can immediately return to his/her daily life. This procedure can augment thin lip structures and can fix asymmetries.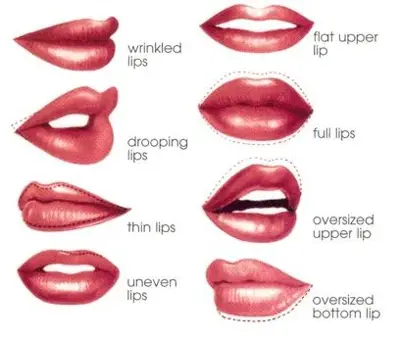 How Long Do Lip Fillers Take to Settle?
Lip fillers give immediate results, right after its application. Swelling and edema however may occur which will disappear within a few days after the procedure. After about 10 days, the lips take their final shape.
If the application is done for the first time, another application may be needed 15 days after the first one. Although the permanence of lip filler application varies according to the texture and structure of the lips and the filler used, a permanent effect up to 9-15 months can be anticipated.
Am I a Candidate for Lip Filler?
Thin lips are a cause for concern for many women. Lip filler application is a good method for patients who want a fuller and better looking lips. Lip fillers can increase lip volume and reduce visible lines by filling the aging-related wrinkles along the edges of the lips.
Most women are good candidates for this procedure, but anyone considering the procedure should learn about the risks and benefits of lip filler application before reaching a decision. If your overall health is good, if you have a positive attitude and realistic expectations, you can be a good candidate to have this procedure done in our clinic.
18 and Older
Individuals who have completed their growing up. Usually, surgeries are performed on individuals who are 18 years and older.
Physically Healthy
Individuals who are physically healthy and do not have diseases that prevent could prevent them to have surgery
Realistic Goals
Individuals with a positive perspective and specific but realistic goals to improve their appearance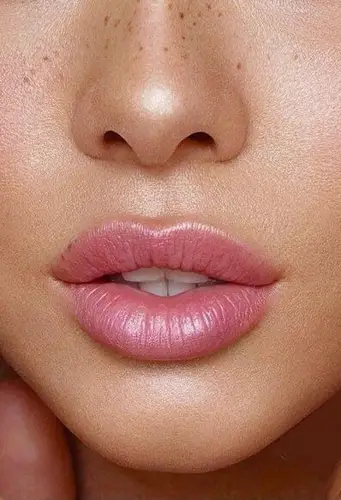 Patient Feedback
Success in lip filler application depends more on the aesthetic perception and dexterity of the plastic surgeon compared to other aesthetic procedures. In order to have a successful procedure and be satisfied with the results after the procedure, it is essential to make sure that the surgeon that will perform the procedure has high aesthetic perception, a lot of experience and high surgical skills. Below, we shared the post-procedure opinions of some of our patients who had lip augmentation in our clinic.
Before Lip Augmentation Procedure
Before lip augmentation surgery, patients should receive preoperative instructions from their surgeons. In case of fat transfer and lip implantation procedures, patients should do the following:
Before the Operation
Patients should stop taking/consuming certain drugs, plants and vitamins, such as blood thinners a couple weeks before the surgery, and if the procedure will require a surgery such as fat injection, patients should stop eating after midnight, on the day of surgery. For a simple filler injection procedure however, no such precaution is necessary.
The Day of Surgery
Wear comfortable clothes for your surgical appointments. Do not wear makeup, jewelry or contact lenses on the day of surgery. Ask a family member or friend to take you home.
After the Surgery
Lip augmentation procedure with dermal fillers is a less interventional procedure compared to liposuction and lip implant procedures. Lip fillers aftercare is manageable. Patients can drive to their appointments, provided they do not use any painkillers while driving.
Lip Augmentation Procedure with Fillers
Surgeons most often use injectable lip fillers to give the lips a youthful, fuller and sensual look. Due to the fact that there are a wide range of materials and injection techniques for lip augmentation, there are many options that can meet your individual needs. Sometimes lip Botox is done for a similar effect, but that's not considered a dermal filler. Advances in lip augmentation have made some of the methods that surgeons use together with permanent lip fillers very effective.
Injection Techniques for Lip Fillers
Lip augmentation with injectable lip fillers provides pleasant results in as little as 30 minutes. Anesthetics is not typically necessary for the procedure, since the filler itself usually contains lidocaine or another topical anesthetic.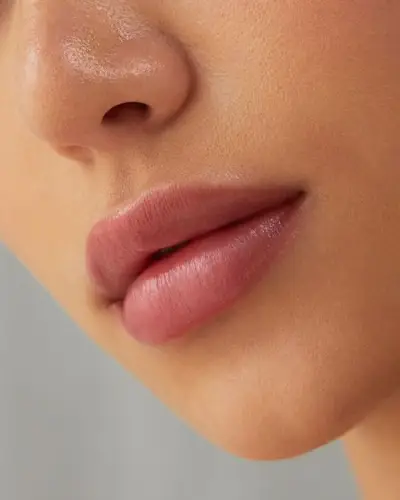 Lip Fillers Types: Permanent and Temporary Lip Fillers
With injectable lip fillers, the results are temporary, since the fillers eventually break down and the body absorbs it. The period of persistence of the results varies by individual, but is usually between four to six months. Individuals considering lip implants for permanent lip enhancement are advised to try injectable lip fillers first to see if the implants will provide the desired cosmetic benefit.
Collagen Based Lip Fillers
Collagen, the most commonly used injectable filler, comes in two ways: cattle-derived collagen and human-derived collagen. Collagen derived from bovine is extracted from the tissue of cows, which are constantly monitored and disease-free. Since there is a 3% chance of an allergic reaction to bovine collagen, an allergy test is required before treatment if this type of lip filler will be used. Collagen derived from humans is obtained from cadavers or excess skin removed during surgeries. The biocompatibility of human-derived collagen eliminates the need for an allergy test, making these lip fillers an excellent option for those who cannot tolerate bovine collagen.
Hyaluronic Acid Based Lip Fillers
Hyaluronic acid is a clean, natural lip filler substance biodegradable that is naturally present in the connective tissues of the body and skin. Hyaluronic acid binds to the lips with injected water molecules. Hyaluronic acid-based fillers can soften the lips and also strengthen the natural collagen within the lips. A pre-treatment allergy test is not required for these type of lip fillers.
Lip Augmentation Procedure via Fat Transfer
Lip augmentation via fat transfer involves taking fat from one part of the body and injecting it into the lips. Only the natural tissue of the body is used during fat transfer, so rejection or allergic reaction rarely occurs. The effects of this procedure usually lasts between six months to more than a year.
In lip augmentation via fat transfer, fat is first harvested by liposuction from an area of the patient's body (usually the abdomen or hip). It is also possible to get rid of excess fat in any part of your body with this procedure. The fat is then injected into the lips with the help of a syringe and cannula, with minimal damage to the tissues. These injections leave only small incision marks about 0.2 centimeters in diameter, similar to pinholes. When these are healed, they are nearly impossible to see. Lip augmentation via fat transfer is typically performed under local anesthesia or general anesthesia depending on the preferences of the surgeon and the patient. The procedure is ideal for patients who want to reduce the amount of fat in one or more areas of their bodies and also want to get their lips augmented.
What to Expect After Lip Augmentation?
Lip augmentation through the application of lip fillers is usually performed in the doctor's office, fat transfer procedures or lip implants however are usually performed in the operating room. The duration of recovery after lip fillers varies depending on the specific type of lip augmentation procedure performed.
If only the lip filler is used, no recovery process is necessary that will require a break from work or education. Most patients can return to their daily routine within a day, unless a general sedative is used to complete the procedure. Swelling and bruising can be expected after any lip augmentation. If fillers are used for augmentation, these effects can last up to a week. Discomfort during lip filler procedures is minimal and rarely requires management with prescription painkillers.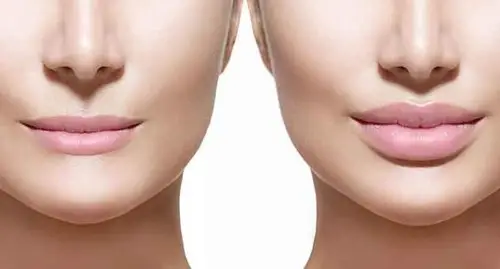 Back to Your Normal Routine
The healing process following fat transfer with injections or lip augmentation with silicone usually requires a full day's rest in order for patients to return to normal activities. Postoperative discomfort can be controlled with over-the-counter painkillers.
Recovery after lip silicone procedure usually requires at least a week, and for many patients this process can prolong up to two weeks. Stitches placed outside the mouth are removed about 10 days after surgery. The stitches inside the mouth are dissolved during the same time period. The lips may feel numb until the healing process is complete. In addition, the lips can remain stiff for up to three months after the procedure.
Who Are Not Suitable for Lip Filler Procedure?
This process is not suitable for you if you are pregnant or breastfeeding or have severe allergies. People with certain connective tissue disorders may also have a higher risk of side effects.
How Old Do You Have to Be to Get Lip Fillers?
Individuals who have completed their growing up. Usually, surgeries are performed on individuals who are 18 years and older.
Are There Any Side Effects of Using Lip Fillers?
Side effects are rare, it is possible to have redness, swelling, pain, itching, bruises and discoloration around injection sites. These effects typically improve on their own or 1 to 2 days after treatment.
What Can I Expect On My Day of Treatment?
Lip filler injections can be performed with minimal preparation. The physician will prepare the area to be treated and take measures to minimize your pain. The procedure will take less than 20 minutes and instructions will be given for you to follow after leaving the clinic.
Do Lip Fillers Hurt?
Injections on the lips can be uncomfortable. However, thanks to anesthetic creams that numb the lips, almost no pain is felt during the application. Especially for sensitive patients, the upper and lower lip can be completely anesthetized with local anesthesia for a comfortable application.
Will My Lips Swell After Treatment?
After lip augmentation, there will be an extra amount of swelling due to the water retention of the filler material. However, swelling is normally minimal and difficult to see.
Since the swelling will decrease the day after the procedure, you may notice that your lips look smaller than they appeared immediately after the injections. Patients rarely experience bruising or swelling that reveals that they have undergone lip augmentation.
Do Lip Fillers Dissolve Naturally?
Dermal fillers are made of hyaluronic acid, a naturally occurring skin compound, they are naturally dissolved by your body over a period of 6 – 18 months. This process uses a compound called hyaluronidase.
How Long Does Lip Filler Last?
Hyaluronic acid lip fillers are usually permanent for about 9 – 15 months. The exact time for lip filler permanence varies between the type and quantity of the filler used for the patients. Since Hyaluronic Acid is completely absorbed and broken down by the body within months, it is recommended to reapply every 6 months to preserve the results.
What is Lip Filler?
Lip augmentation is a cosmetic procedure that improves the size and shape of your lips. There are three basic ways to increase the size of your lips. Injectable fillers provide a non-surgical, usually temporary augmentation for your lips, while surgically implanted lip implants and fat transfers offer a permanent solution.
Can Lip Fillers Look Natural?
Lip fillers can give you a natural-looking result. Depending on what type of dermal filler you choose and the results you want, lip fillers can give you a natural appearance.
How Is The Consultation for Lip Augmentation Made?
During a lip augmentation consultation, the surgeon will listen as you explain your problems about your lips and your aesthetic goals. He/She will then determine whether you are suitable for the lip augmentation process, by learning about your medical history and by examining your lip shape. The surgeon will also answer your questions and inform you of the possible risks.
When Does Swelling Go Down After Lip Filler Application?
Your lips will be quite large and swollen at first, but by the end of the first week after the procedure, the swelling will subside and the final version of your lips will become visible.
Can The Lip Augmentation Be Reverted?
Lip augmentation made with implants can be reversed, that is, the implant can be removed during a subsequent surgery. Many of the lip augmentations performed by injections are temporary, so the effects disappear on their own over time.
However, if demanded, it is also possible to rapidly dissolve them by injecting a special mixture. Permanent fillers are more difficult to remove, so consider this when making your decision.
Risks Involved in Lip Augmentation
Although there is a low risk in terms of complications associated with lip fillers, your reaction will depend on the filler of your choice and your ability to heal. Milder side effects due to lip fillers include deterioration of blood circulation as a result of leaking of the filler into the veins, redness, bruising, swelling, mild discomfort, tenderness and infection. With a careful approach, these symptoms can be minimized and should disappear within a few days. A more serious risk is an allergic reaction to animal-derived lip fillers, but this is very rare.
Risks of Lip Augmentation Procedure via Fat Transfer
Lip augmentation via fat transfer is a relatively low-risk procedure. However, as with any surgical procedure, it is possible to have some side effects. These can be related to the area where the fat is harvested (abdomen, leg, etc.) or the injection site (lips), as well as the possible risks of anesthesia, and include infection, bleeding and swelling. Another aspect of this process is that some of the injected fat will be permanent and some of it will dissolve. In order to ensure maximum permanence, in addition to the technical details that the plastic surgeon will pay attention during the harvesting and injection of the fat, it is also essential that the patient follows a number of postoperative recommendations, such as stopping smoking.
Are Lip Fillers Safe?
Lip injections/lip fillers are very safe if you choose board-certified plastic surgeons who are well versed in facial tissues and have experience administering injectables. The common complications include swelling or minor infection.