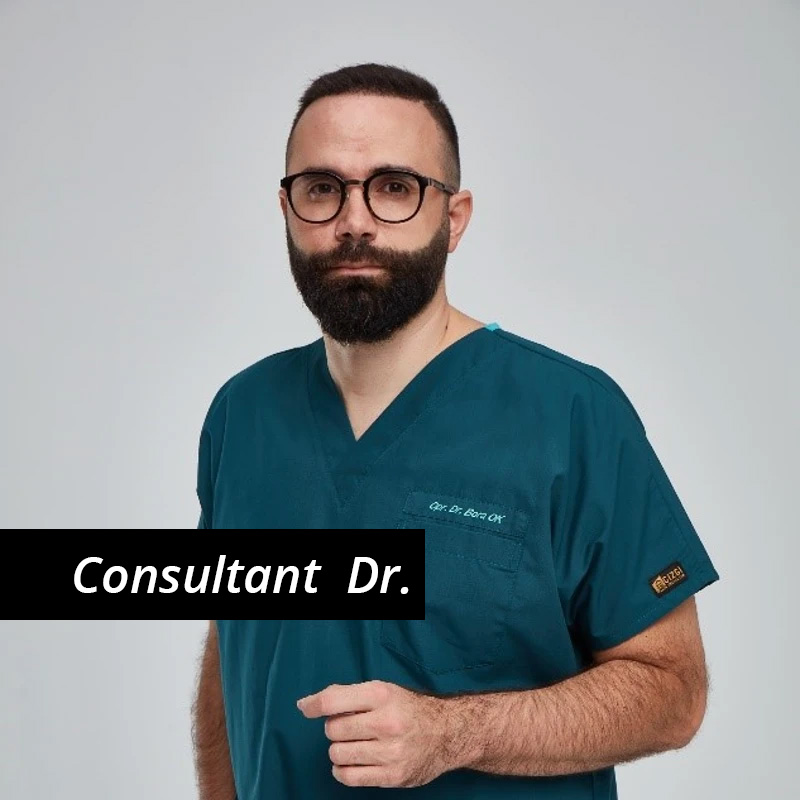 Bora Ok M.D.
Plastic, Reconstructive and Aesthetic Surgery
Experience
He has been performing Plastic surgeries for about 10 years and performed more than 2500 surgeries
Languages
English, Turkish


Specialization
Full range of cosmetic surgery procedures
Personal Details
MD. Bora Ok completed his medical education with honors at Karadeniz Technical University Faculty of Medicine.
He began his professional career by receiving specialization training in the field of Plastic, Reconstructive, and Aesthetic Surgery at Istanbul Haydarpasa Training and Research Hospital.
During his specialization training, he participated in numerous hand surgeries, burn treatments, congenital anomaly corrections, microsurgery procedures, tumor surgeries, and aesthetic surgical operations.
He successfully completed a microsurgery course organized by the Reconstructive Microsurgery Association at Dokuz Eylül University.
Member of International Society of Aesthetic Plastic Surgery (ISAPS) and more.
Speaks fluent English.
Certifications and professional memberships
American Society for Aesthetic Plastic Surgery (ASAPS)
American Society of Plastic Surgeons (ASPS)
International Society of Aesthetic Plastic Surgery (ISAPS)
Rhinoplasty Society of Europe (RSE)
Aesthetic Plastic Surgery Association
Turkish Plastic Reconstructive and Aesthetic Surgery Association
Turkish Medical Association
Other
MD. Ok is renowned for his expertise in ethnic rhinoplasty and closed rhinoplasty procedures.
He uses state-of-the-art methods to achieve exceptional results in breast augmentation, breast lifts, neck lifts, facelifts, eyelid surgery, body shaping, liposuction, tummy tuck, and mommy makeover procedures.
Dr. Ok's approach to patient care is highly personalized, taking into consideration each patient's needs and expectations. He is deeply commited to providing his patients with the highest quality of care and achieving outstanding results. After closely listening to their wishes and goals, he creates a realistic framework that puts them on the path to achieving their dreams.